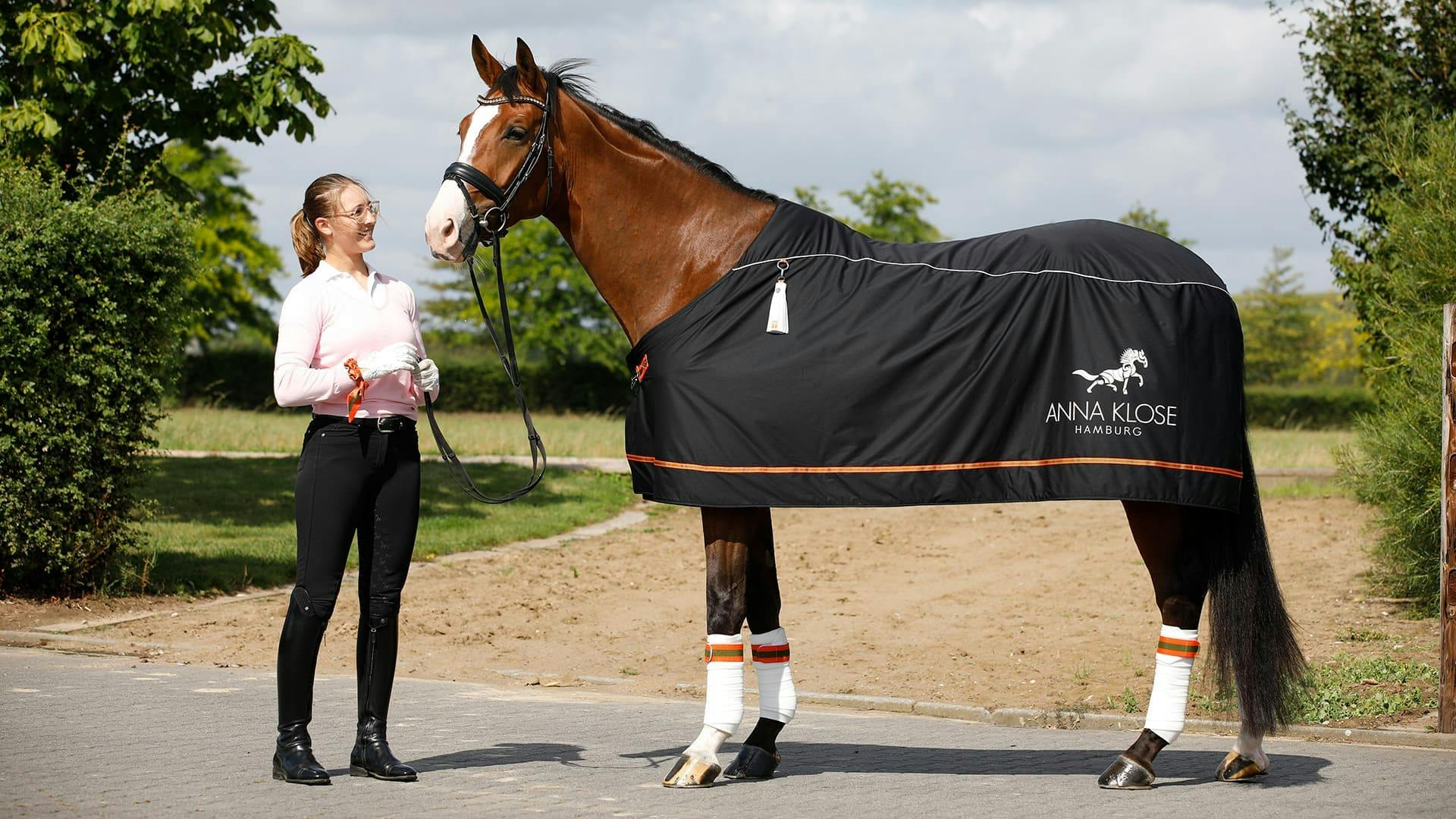 Sport-Line
For a dynamic performance
Sport-Line
The Sport-Line impresses with its dynamic look with the ANNAtomic Suit. The combination of sporty softshell / shell and high-quality fleece makes the blanket highly functional and very low-maintenance. The smooth surface is water and dirt repellent – and therefore also very easy to clean.
Your spring hero
Sporty Black
The black Sports-Line blanket made of thin shell is characterized by exceptional lightness and is ideal for milder temperatures.

Combined with the Anatomy Suit, this blanket gives your horse the sporty look in "Midnight Black". With both the shell and the fleece lining being breathable, the horse's back remains dry and warm through the Air Balance system. This blanket is an absolute dream model in its handling and perfectly suited for crisp spring days or colorful autumn days.
The winter wonder
Sporty Blue
The royal blue sports line blanket made of soft shell combined with the soft fleece keeps the horse very warm and is therefore well suited for the cold Hamburg winter days.
In contrast to our black shell, the royal blue softshell is equipped with an additional fleece lining. The double fleece coating makes the blanket almost windproof and provides an additional warming effect. Due to the precise fit of the Anatomic Suit, the kidney area of the horse is well protected against wind and weather.
Because every rider is different
Make it your own!
Special highlight of the blanket collection: All blankets can be customized with sporty accessories on our labeled safety rings. In addition, the rider can have personal initials engraved on the inside of the blanket.
A Super-Match
Sporty All-In-Bags
The All-In-Bags of the Sport-Line are available in a matching design to the blankets – as a practical companion for every rider.
Our XL bag is a true "All-In Bag" as it has the dimension of a saddle pad, so that it fits all equipment. For everyday use in the stable and at the tournament, the bag is also available in size L.
The labeled inner lining is wipeable and provided with a zippered pocket. In addition, the bag is closed by an upper zipper. Thanks to the practical feet, the bag can be put down anywhere. The straps in the brand colors orange-green-orange give it a high recognition value and ensure high wearing comfort. The easy-care outer material is dirt-repellent and can be easily cleaned with a wet cloth.