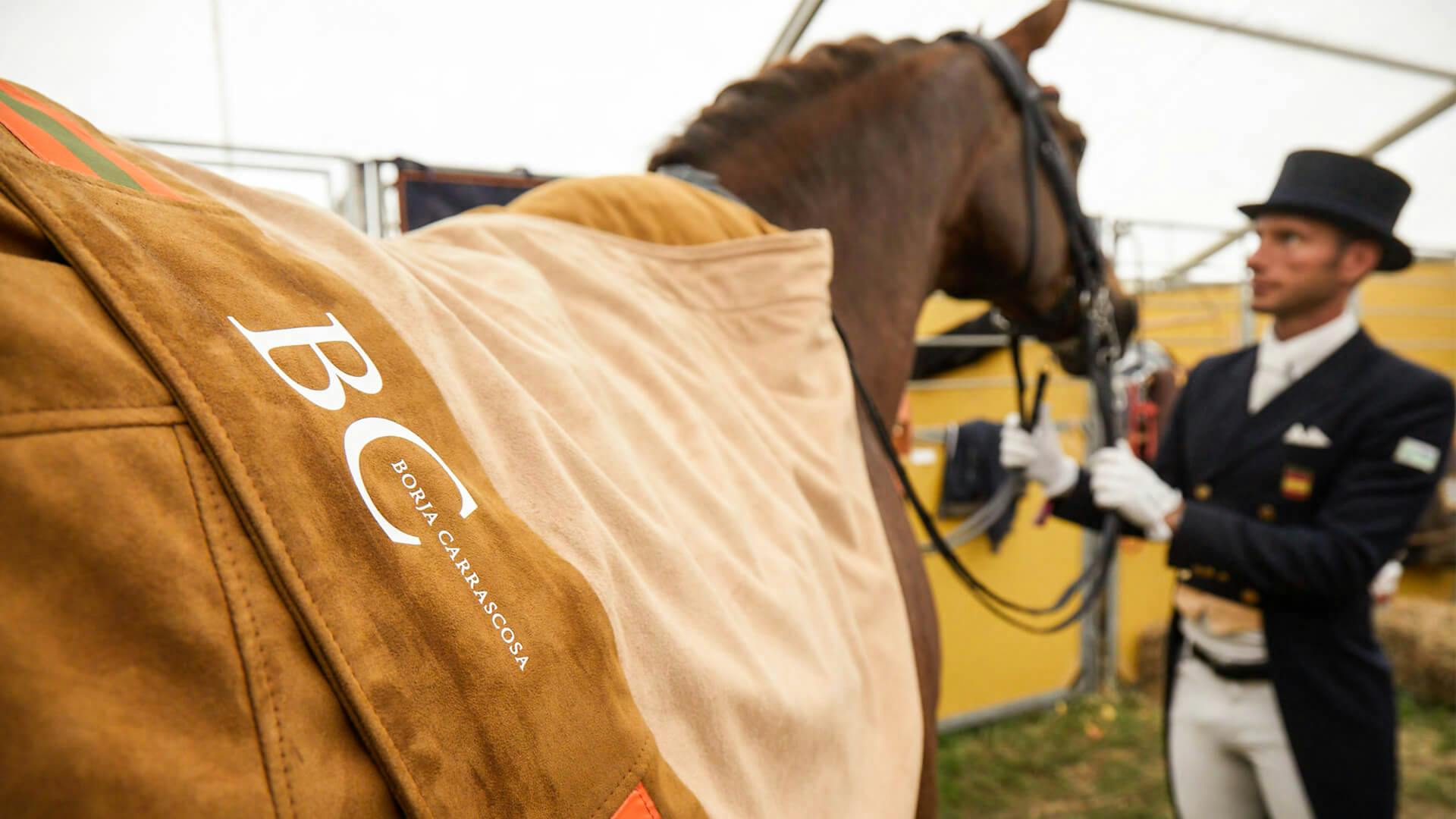 Individualization
As individual as our customers.
Unique products
By handcrafting our products in Hamburg, we can manufacture exclusive items that have been designed entirely according to your wishes. Get inspired by our creative minds and let your thoughts run wild when imagining your dream product. It is also possible to personalize your blankets and tassels.
Make it your own!
Personalization of the blankets
The purchase of an Anna Klose blanket is something very special and in order for your new favorite piece to remain unmistakable, we can personalize it on the inside.
There is room for your inscription in the middle of the classy Anna Klose-strip. You decide if you want to have your own name, initials or the name of your horse printed in your blanket. We are happy to assist you with design suggestions. Please note that personalized blankets are excluded from exchange.
A jewel for every occasion
Personalization of the tassels
As a little extra we offer you to personalize your tassels.
Our tassels, which refine both the blankets and the bags, can also be labeled with small messages, initials or names. Again, we offer you a lot of creative freedom and are happy to assist you in the studio.
For the last finish
Personalization of Shirts and Hoodies
Each of our shirts and hoodie can be personalized at the sleeve - either with your desired initials or with a short note for your loved ones.
A charming detail for any item, which easily turns each shirt into your next personal favorite.
Make it special!
Exclusive production for special occasions
As all our products are handmade in our studio, we are able to create unique products that are tailored to the occasion.
Our blankets had their first appearance on the occasion of the awarding of the Golden Riding Badge to Jasmin Nussbaumer in the context of the Regional Championships in Bad Segeberg in 2018. As a seasoned amateur rider, Jasmin Nussbaumer had achieved the necessary S-achievements together with her longtime partner Homer. She trained the 12-year-old Hofrat Sohn from the bottom up and was rightly honored with the Golden Riding Badge.
For further information and special orders, please contact us personally.
Every client can actively take part in the development process of their unique blanket. Together with our team of creative designers as well as illustrators we can specifically work on your personal ideas and visions. In the pictures below you can get an insight of the work for the parade blanket for Jasmin Nussbaumer.
Anna Klose getting the wedding-fever
A very special match
In December 2019 our lovely ambassador Kathleen Keller married husband Nikolas Kröncke. Her beautiful wedding dress form Gala Lahav was perfectly matching the customized blanket, collier and fly hat of her successful partner in the dressage ring, San Royal. The laces were the same as on the bride's dress and thereby, we were able to design a truly unique set for her wonderful day. Photo by Philip Eggers.