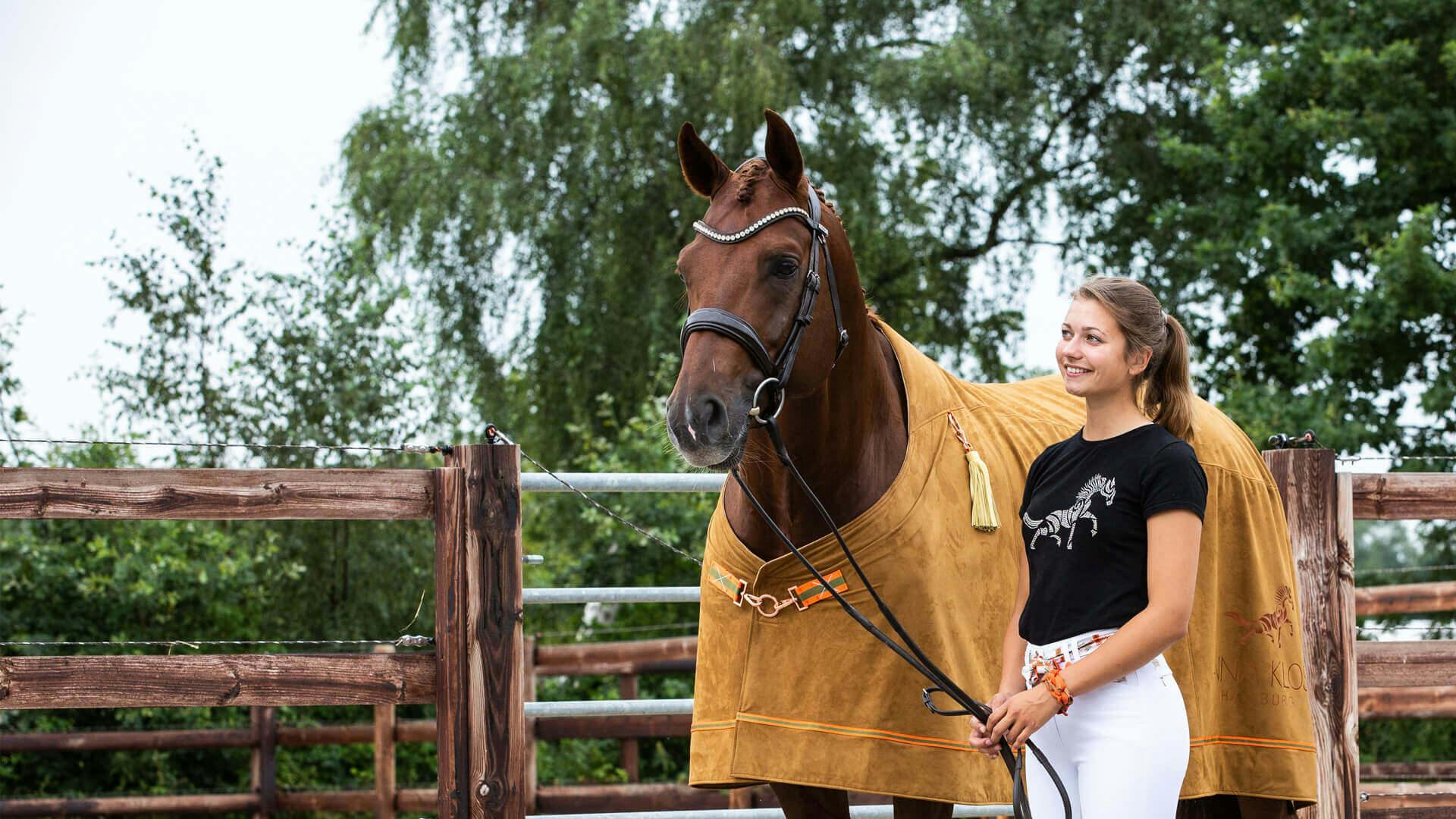 Elegance meets innovation
Exclusive-Line
The Exclusive-Line is the flagship of our collection. Made of unique Tech-Suede, the products are absolute eye-catchers. The high-quality and technical Tech-Suede is soft, flexible and lightweight. This makes it perfectly suitable for blankets, bags and accessories. 
Customize each product individually!
A special highlight of our collection: All of our products can get personalized with initials, names or small messages for your favorite four- or two-legged friend.
The perfect format
Exclusive Equestrian Totes
The distinctive design of the All-In Bags was transformed into a new format for our Equestrian Totes.
The matching Organizer, also made of high-quality Tech-Suede, provides suitable pockets for laptop and office equipment. An absolute eye-catcher from the Equestrian Manufacture both at the show grounds and at the office.
The masterpiece of Anna Klose Hamburg
Exclusive Suede Blankets
Driven by the vision of horse blankets that would emphasize the beauty of horses and not hide it, the heart of the brand Anna Klose Hamburg was born: The Annatomic Suit. 
A masterpiece of the manufactory handmade in 86 individual work steps. The remarkably soft tech-suede is lined with a warming microfleece in order to ensure maximum comfort for the horse and not only stand out with its unique design.
Complete your looks!
Exclusive All-In Bags
The unique All-In-Bags of the Exclusive-Line are available in a matching design to the blanket – as a stylish companion for every rider.
In the XL bag, a saddle pad can unfold in its full width, so that all equipment fits into it. For everyday use in the stable and at the tournament, the bag is also available in size L. Especially exclusive is a combination of both bags and the matching blanket.
The bag is closed by an upper zipper. Thanks to the practical feet, the bag can be put down anywhere. The straps in the brand colors orange-green-orange give it a high recognition value and ensure your wearing comfort. Both the labeled inner lining and the tech suede on the outside are washable and therefore easy to clean.