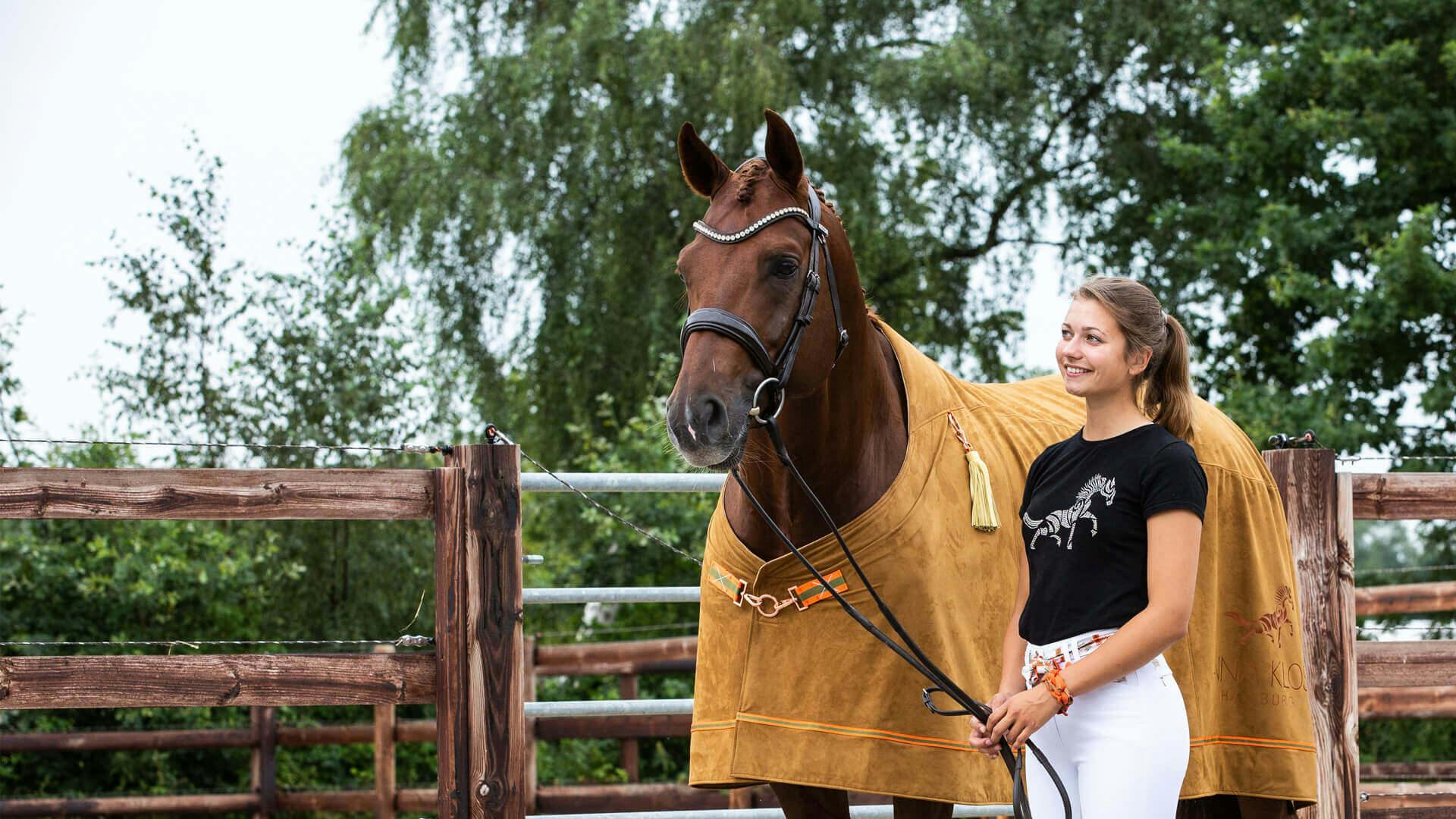 Elegance meets innovation
Exclusive-Line
The Exclusive-Line is the flagship of our collection. With unique Tech-Suede and Alcantara, the products are an absolute eye-catcher. The high-quality and technical Tech-Suede is soft, flexible and lightweight. In addition, our Tech-Suede is breathable and lined with Italian microfleece or cooler fabric, so the horse's back remains dry and warm thanks to the Air-Balance system. Combined with our Anatomic Suit, we set completely new standards with this blanket.
Customize each blanket individually!
A special highlight of our blankets: each blanket can be customized with elegant accessories on our labeled safety rings. In addition, the rider can have his personal initials printed on the inside of the blanket.
Time for a new era of flyrugs!
Army Green details rocking the spring!
This spring-set is the equivalent of true manufacturing quality. The high-quality flyrug is riddled with endless details defining the overall look and ensuring the strong functionality of the blanket. The backpack picks up the exclusive optics and is manufactured of the same Tech-Suede as the blanket. 
The precise cut of the ANNAtomic Suit shapes the elegant silhouette, whilst the double-layered upper part protects the horse's back with the wind- and water resilient Tech-Suede. Thereby the Air-Balance-System is enabled. The horse's sweat is transported away from the back with a cooler on the inside, while the fabric itself will dry off fast as well. Another highlight is the Easy-Fit-Collar – by integrating a drawstring in the collar of the blanket, the neck opening can be adjusted individually for each horse. Due to the double Velcro fastening the closing is additionally secured.
The backpack is a stylish companion for any event. The length of the handles can be modified and due to the opening at the top the backpack can also be carried by hand. The inside is padded with smooth fabric of artificial leather and provides space for the matching flyrug. Further trifles can be stored in the zipped pocket. 
Complete your looks!
Exclusive All-In Bags
The unique All-In-Bags of the Exclusive-Line are available in a matching design to the blanket – as a stylish companion for every rider.
In the XL bag, a saddle pad can unfold in its full width, so that all equipment fits into it. For everyday use in the stable and at the tournament, the bag is also available in size L. Especially exclusive is a combination of both bags and the matching blanket.
The bag is closed by an upper zipper. Thanks to the practical feet, the bag can be put down anywhere. The straps in the brand colors orange-green-orange give it a high recognition value and ensure your wearing comfort. Both the labeled inner lining and the tech suede on the outside are washable and therefore easy to clean.